Reviews of The Falmouth Son
'A memorable and often beautifully written story about the culture of silence that surrounds the lives of children born out of wedlock in the mid 20th century.'

FAReviewer Dec 2019
'I have just finished your book finding myself with tears in my eyes – you have power in your writing.'

MT March 2018
'Really enjoyed this well written imaginative book. Enjoyed the stories about Fyche's imaginary father and his search for his real one. A very different and unexpected end to the story. A really good read.'

SG March 2018
'I found myself eager to return to it, wanting to share the quest. The main character is endearing, frustrating and unique. You understand why the women want to be around him, you puzzle as to why they stay! Sense of place was hugely powerful too.'

RSS March 2018
'Lyrical, poetic and emotional it will make you want to visit Cornwall because of the evocative descriptions found within the pages of this special novel.'

FD March 2018
'I LOVED your book sooo much – its been a fantastic read.  I really liked the way the special book was intwined in the book – I think it works perfectly !!  I love the way you write  = desciptive but not too much  – when is the next one – are you continuing with Fyche ??'

NS May 2018
'It successfully evokes the close-knit community of a unique seaside town in the 1970s through a vivid cocktail of myth, character and setting.'

FAReviewer Dec 2019
'I loved it. I mean by this not platitudes but actual proper enjoyed it. The writing was smooth to the touch like turned wood.'

R SS May 2018
'I thoroughly enjoyed this book. It was quite a different idea. I particularly liked the way there are two interwoven stories. It kept me hooked!!!'

Judith S October 2018
Mark's Books
Last Summer Night

Regular price

Sale price

£9.99

The Falmouth Son

Regular price

Sale price

£8.99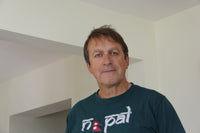 Mark Ballett
The Falmouth Son was my first novel. The second, Last Summer Night, was published in September 2021 and it is also available as an audio book narrated by Janine Birkett through all major channels. I'm working on my third novel, which I'm hoping will be finished in 2024. 
I post regular videos as I write my third novel, to document the journey and record the process. Follow me as I write: Write A Novel
Happy to sign or inscribe any purchase. Just go to Contact Page and get in touch.
The Falmouth Son

St Anthony's Head In Sight
Last Summer Night

Kirkwall Harbour Light
The Falmouth Son

In Falmouth Bay
Last Summer Night

Big Tree in Albert Street
The Falmouth Son

Silvery Road Ahead
Last Summer Night

The Light Of The North
The Falmouth Son
St Anthony's Head In Sight
Last Summer Night
Kirkwall Harbour Light
The Falmouth Son
In Falmouth Bay
Last Summer Night
Big Tree in Albert Street
The Falmouth Son
Silvery Road Ahead
Last Summer Night
The Light Of The North