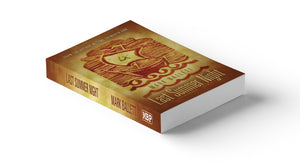 Last Summer Night was published in September 2021. It is now also available as an audio book, narrated by Janine Birkett, through all major channels.

Nineteen-year-old Panda, is planning to meet her suicide buddy, Marty, at midnight. Until then, she wants to experience Last Summer Night in Kirkwall, when, according to local legend, all those who should never be allowed out, come out.
She encounters some interesting people: Sigurd, and his feuding Viking family; her tattooed friend Martin, who is actually a girl and a criminal, of sorts; Noah, a visiting reporter and sometime relationship counsellor; Davey, an itinerant and talkative eighty-four-year-old; and her father's new girl-friend, Sandy.
Her father, Kito, Sandy, her friends, and the police are trying to find Panda, but it is a good night to avoid them as Kirkwall is full of people drinking a lot and doing rather strange things. Things that could only happen somewhere so strongly connected to the past.
'Well, I loved this. Fabulous! It got better and better. I particularly liked the ending.' Ruth Lunn, Lead Editor, UK Book Publishing July 2021