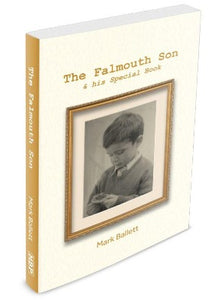 A mystery romance set in Falmouth, Cornwall. It tells of love and intrigue, contains a treatise on love, and captures the essence of this historic British port.
'The Falmouth Son is a memorable and often beautifully written story about the culture of silence that surrounded the lives of children born out of wedlock in the mid 20th century. It successfully evokes the close-knit community of a unique seaside town in the 1970s through a vivid cocktail of myth, character and setting.'
Faber Academy Reviewer, December 2019.
Exiled from his overbearing mother and the town that defines him a young man returns home to discover that his early life is shrouded in mystery. His fellow Falmouthians will not help him get to the bottom of what really happened; they are united in keeping the town's secrets. For the first time in his life the place he considers an extension of himself is working against him, trying to prevent him from finding the truth of who he really is. What he discovers makes him question what his imaginary father, The Captain - who lives in his Special Book - taught him about what it is to be a man. He also unexpectedly discovers the meaning of love.